Sky just sent reports about thousands of URLs to Google, accusing them of copyright infringement.
The goal is to remove many hundreds of Google Search results and make it harder for people to access pirating platforms.
The targeted domains concern IPTV services, which is a "Lernaean Hydra" problem for the copyright holders.
According to a report by Torrent Freak, Sky is back to campaigning against IPTV sellers, sending large numbers of takedown notices to Google and complaining about copyright infringement. Interestingly, the infringement isn't only concerning the content itself, but also the graphics and logos that are used by pirates. IPTV sellers are promoting their services by using Sky's logos, to highlight the content of the packages they offer. Sky is a big UK-based media company and subsidiary of Comcast, which serves about 23 million subscribers of satellite television. They offer sports, news, and various types of broadcasts, and they generally don't like having their logos and content stolen and used by illicit platforms.
Previously, they have launched investigations against individual IPTV box sellers in the UK, and they have managed to take down thousands of pirating URLs from Google results. The IPTV scene is a particularly resilient one though, and it can recover quickly and effectively. Thus, Sky is back to campaigning again, sending a notice which contains 495 URLs last month to Google. This was followed by another four notices in December, that contained 207, 500, 414, and 161 URLs respectively. All of these notices were submitted by "Sky Italia".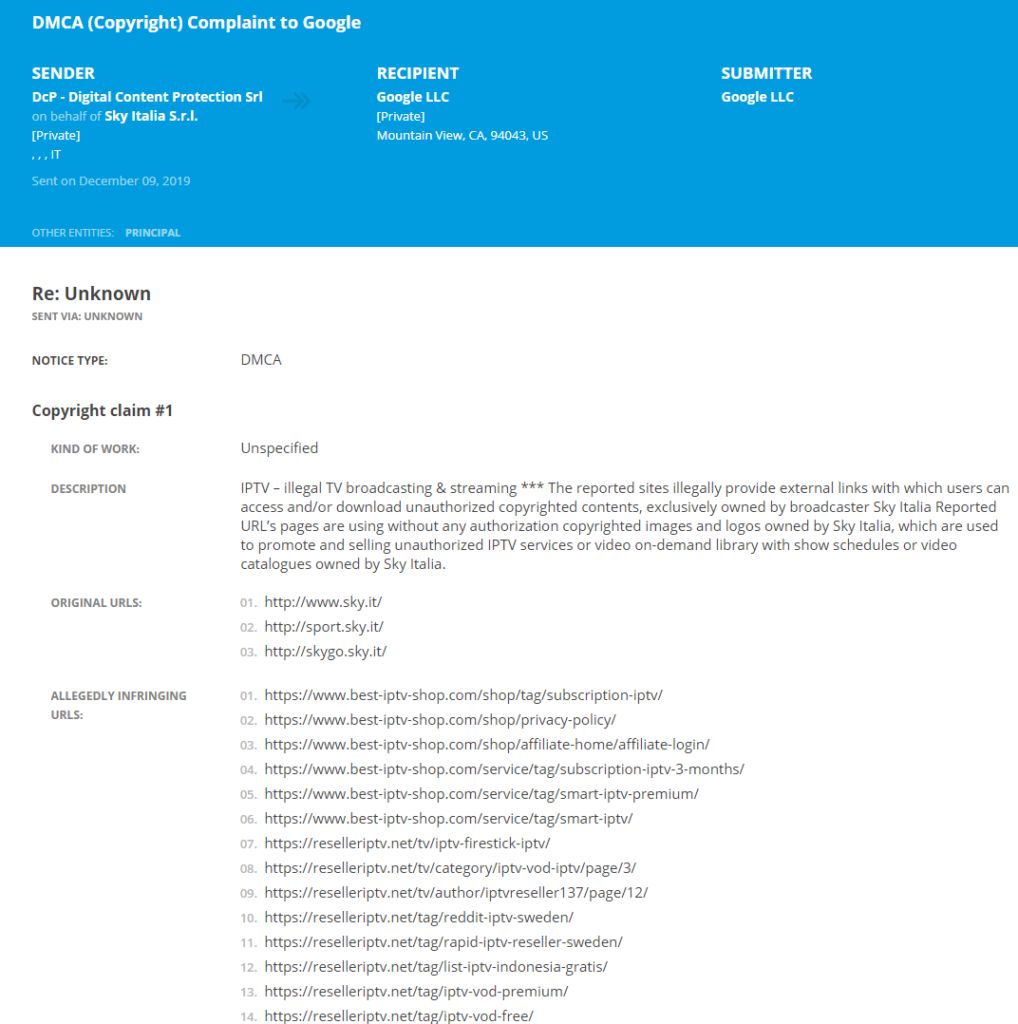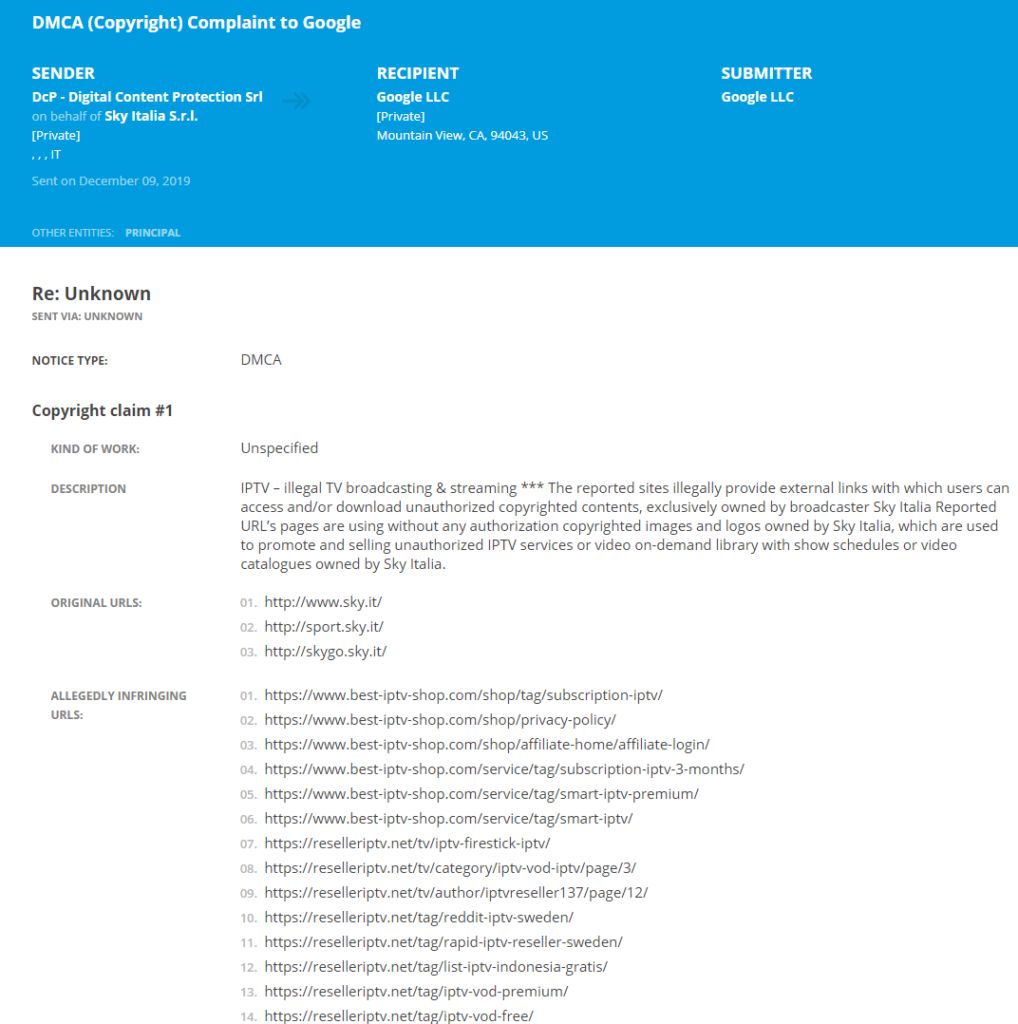 Source: lumendatabase.org
The platforms that are targeted this time are the following: "miglioriptv.net", "iptvthebest.ws", "migliorstreaming.net", "iptv-global.com", "qhdtvpro.eu", "reselleriptv.net", "best-iptv-shop.com", "livetvglobal.com", "legoiptv.com", "iptvstreaming.io", "iptvninja.net", "iptvmento.com", "best-iptv-shop.com", "iptv.memorial", "starts-iptv.com", "littlebigiptv.site", "italianaiptv.site", "tvpanamacity.com", "tibo.tv", "subscription-iptv.com", "myiptvitalia.info", "luckystreaming.tv", "king-iptv.net", "iptvspecial.life", "iptv-premium.store", "iptv.cam", "iptvbestv.com", topiptv4k.com", "superiptvitaliana.site", "sharkiptv.com". "oggsud.it", "iptvpertutti.site", "iptv.memorial", "europe.supertvserver.com", "cccambox.com", "abonnementiptv-smarter.com", "iptvsicura.it", "galaxytv.ga", "usa.tibo.tv", and "foviptv.de".
Delisting the above from Google's search results would make it a bit harder for people who are looking to access these platforms, but this doesn't mean that the services or domains will be taken down. If you have these URLs saved in your bookmarks, or if you enter them manually, or click on a link, you will still be able to visit them. This is why Sky is targeting such a large number of URLs, as all of the results that come up when using specific popular keywords must be eliminated. And as for whether Google is going to accept Sky's request or not, this should be considered a done deal already. This is just another episode on the fight between IPTV piracy and rightsholders and greed going against "value for money", as this move won't have a significant impact on the pirate IPTV market.
Where do you stand on the above, paying for a Sky subscription or pirating their programs on IPTV platforms? Let us know in the comments down below, or on our socials, on Facebook and Twitter.