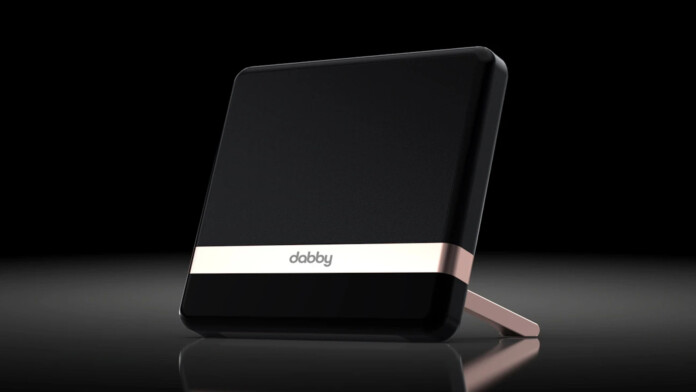 Source: heydabby.com
Dabby is here and it finally offers a platform to unify all streaming services one has subscriptions to.
The device can gradually learn your tastes, listen to your voice commands, and help you manage subscriptions.
Currently, the retail price is a bit salty, but the creator promises it will gradually drop as sales pick up.
A new streaming device called "Dabby" has debuted in CES 2020, and it's the offspring of an age of streaming market over-saturation. More specifically, Dabby promises to make the switching between streaming service apps a thing of the past, uniting everything under a single platform and enabling the user to seamlessly hop from one service to the other in an instant. Dabby was actually developed thanks to the financial support that it got in Kickstarter last year, raising $191k from 912 backers.
Diving into the details of what makes Dabby great, it features a patented "Content AI engine" which learns what the user likes and pushes relevant content to them. Moreover, it comes with another patented technology called "Dynamic Credentials AI" and which helps the user manage their subscriptions on the various streaming platforms. There are no ads appearing out of nowhere, no need to download any additional apps, and no loading of third party software of any kind. As for the subscription services that are supported right now, the list includes YouTube, Netflix, TubiTV, Disney Plus, Instagram, and Twitch. Searching on Dabby means searching on all of the services and getting results from everywhere you've subscribed to.
Source: heydabby.com
Furthermore, the device has its own screen, so you may cast something on the TV or other devices, or watch something on Dabby. For example, if you take it to the toilet with you, the Dabby screen will activate and resume the playback of whatever you were watching on the TV. If you wish to watch something different on Dabby's screen while sending something else to the TV, that's still perfectly possible. Finally, Dabby supports voice searches and voice control commands. Just say "hey Dabby, play be-pop Jazz" and it will search, find, and play something relevant.
Having said all that, the list price for Dabby is currently set at $399, which is quite high but that's understandable for a unique product like that. If you are juggling between three or more streaming services and you find yourself wasting time going back and forth between different apps, maybe this device would be a life-saver for you. Also, providing a central way to manage subscriptions could be a great way to mitigate the risks of getting hit with "subscription fatigue". Streaming content is done for entertainment after all, not generating anxiety. That said, Dabby could be the piece that brings back the joy of streaming for many of you out there.
Would you buy and use a device like Dabby? Let us know if you think it is worth the price or not in the comments down below, or join the discussion on our socials, on Facebook and Twitter.