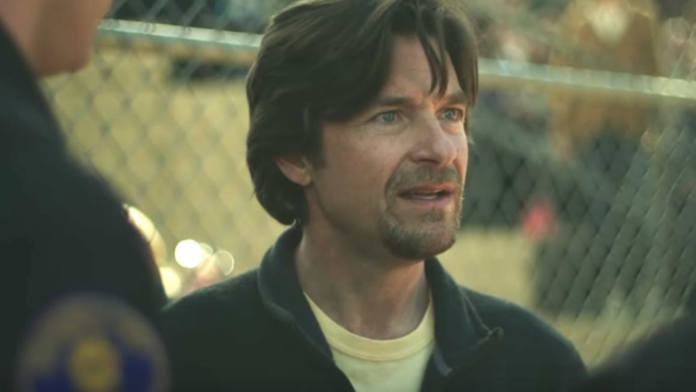 via HBO
You know that when the name of Stephen King is attached to a movie, it's likely going to be a big hit, so we are so excited to watch The Outsider on HBO this January.
The Outsider is a miniseries that was created for HBO, based on a Stephen King novel with the same name. The miniseries has been under works for over a year and a half, and it will follow a complicated story where a man is accused of a crime he did not commit despite evidence pointing to his guilt, such as DNA. With video footage showing he was actually in a different city at the time of the murder, things get complicated quickly. A murder investigation, supernatural, and monsters, all melt together in an exciting plot.
The movie was produced by Emmy-winning actor Jason Bateman, who also plays one of the main roles. Alongside him, you will see Ben Mendelsohn, Cynthia Erivo, Bill Camp, Mary Winningham, and more.
When and Where to WatchThe Outsider?
The Outsider will premiere on HBO on January 12th, and you get to see new episodes at 9 PM on Sundays. The series will have ten episodes, which puts the finale on March 8th.
How Can I Live Stream The Outsider?
HBO is a channel that has been around for many decades, and it is well known for the top quality content it features, like The Outsider. When it comes to watching HBO online, things are pretty straightforward because they have a streaming platform of their own that you can subscribe to directly if you haven't done so, through live TV service or a cable company. In fact, there are two platforms that you can check out, namely HBO GO and HBO Now. On HBO GO, you can log in to an account by simply using the credentials your TV provider has. On HBO Now, you can subscribe directly and pay HBO yourself. Start your 7-day free trial on HBO today!
One of the cool things when watching content on the HBO streaming platforms is that you get access to the content at the same time that the episodes are scheduled to premiere on TV. Also awesome is the fact that you can watch HBO on pretty much any platform that you have at home, including iOS and Android phones and tablets, Apple TV, Android TV, Fire TV, PlayStation 3, PlayStation 4, Xbox 360, Xbox One, as well as various smart TVs. (Note: HBO is a service that is available worldwide, including through HBO GO. The problem when you travel is that you can only access the version of HBO that you subscribed to at home, and you can't do that when you travel. Therefore, you will need a VPN to help you access the content you subscribe to, so click here to learn exactly what you need to do.)
Here's how you can sign up for HBO Now:
You're going to have to start by visiting the HBO Now website and tap on the "Start free trial" button on the page. New subscribers can enjoy a 7-day free trial before paying $14.99 for the service.
Once you tap on the button, you will be redirected to a page where you can set up an account by providing your email address and the password, as well as your name and ZIP code.
Lastly, you will have to provide your card details so they can set up the payment process.
Here's how you can sign up for HBO GO:
You're going to have to start by visiting the HBO GO website and tap on the "Sign in" button.
You do have to own an active HBO subscription on your account for this to work.
You can now go ahead and access any of the content you want, including The Outsider, when it starts airing.
Other Ways to Watch The Outsider
Hulu – Hulu is a great service that will help you enjoy your time of content once you subscribe to it. There are a couple of options here because Hulu is a live TV service, but also a known on-demand platform. Regardless of which one of the two you will pick, you can still add HBO to your subscription. Start your 7-day free trial on Hulu today!
Amazon Prime – On Amazon Prime, you can take advantage of the service in order to subscribe to HBO. You will pay the same $14.99 for the service, which will enable you to access the content from the Amazon app, and you get to pay through a single source, which is Amazon, rather than have multiple subscriptions.
How Can I Watch The Outsider When Traveling Outside of the United States?
Whenever you travel the world, you need to know that you can't take the platforms that you use at home with you. This only happens because there are license deals in place that will prevent you from accessing any of the content as long as you are not in the United States. This can be quite annoying, but it's part of the way content creators make money as they get to license their creations in multiple countries, and each has to pay for that content. The geo-blockade is directly tied to your IP address, which means that if you change your IP with the help of a VPN, you will be able to access your account rather easily.
Therefore, we recommend using a tool such as ExpressVPN, which is quite awesome and comes with thousands of servers across the world and tight security and privacy features to help you out.
Here's how you can set up ExpressVPN so you can watch The Outsider anywhere in the world:
First, you're going to have to visit the ExpressVPN website (49% OFF) in order to subscribe to the service. Setting up an account will only take a few minutes of your time, and you need to be aware of the fact that ExpressVPN offers a 30-day money-back guarantee, so if there's anything wrong with the service, you can always ask for a refund within that time frame.
Load the app for your device and install it. Launch the tool and log in to your account as soon as possible to get things going.
Chose a server that is located in the United States and connect to it.
When the connection has been established, you can go ahead and launch HBO GO or HBO Now so you can watch The Outsider.
Can I Watch The Outsider on the HBO Website?
Yes, this is exactly what you can do rather easily because you will only need to tune in online as soon as the episodes are programmed to air on TV. Whether you go for HBO GO or subscribe directly to HBO Now, you are covered.
Can I Binge-watch the Outsider?
As soon as The Outsider starts airing, the episodes are going to pile up on the HBO platforms, so you will be able to watch them there. Basically, if you want to binge on episodes from The Outsider, you will need to have an HBO GO, or HBO Now account.
Can I Purchase Episodes From The Outsider?
As soon as the show starts airing, you will be able to find episodes from The Outsider on platforms such as Google Play, YouTube, iTunes, from Microsoft Store, Amazon Prime, or Vudu. We will update with links and when they become available, and you should check them all out in case any of them offer better prices at the time of your intended purchase.