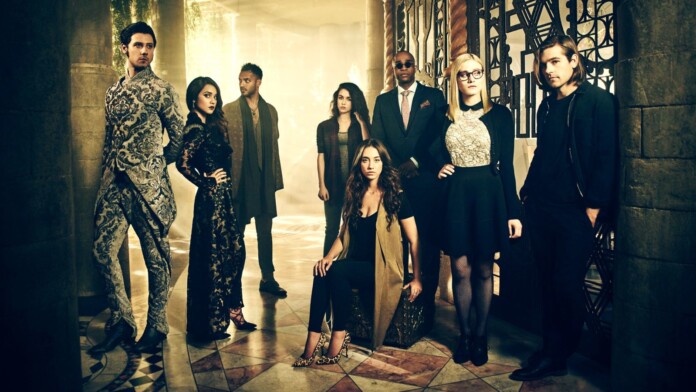 via SyFy
We love losing ourselves in fantasy titles, so watching The Magicians is something that can have us lose ourselves into this wonderful world. We love watching The Magicians online, so we think that you should find the best way to do this as well.
The Magicians premiered back in December 2015, and it has managed to keep everyone on their toes ever since. The story follows Quentin Coldwater, who enrolled in a University for Magical Pedagogy to be trained as a magician. There he discovers that the childhood books he read are actually real, and they pose a danger to humans. The next seasons continue to follow Quinton through this journey.
Jason Ralph plays Quentin Coldwater, while Stella Maeve plays Julia Wicker, who is Quentin's childhood friend.
When and Where to Watch The Magicians?
The Magicians returns for a fifth season on January 15th, 2020, and you get to watch the new episodes over on Syfy starting at 22:00. It is unclear exactly whether this season will follow in the footsteps of the previous ones and include 14 episodes or not, but it remains to be seen as the season unveils.
How Can I Live Stream The Magicians?
Syfy is a channel that is thankfully very easy to watch online as it comes included with numerous live TV platforms. Turning to the Internet to watch TV is something that we should all be doing as it gives us a lot more freedom of movement that you don't get with traditional cable. For instance, you don't have to be at home to start watching your favorite shows, as you can do it even from the bus or at work as long as you have a device to help you do this. One of the best ways to watch The Magicians on Syfy is with the help of fuboTV, which is a single bundle platform that allows you to enjoy over 100 networks. Start your 7-day free trial on fuboTV now!
Besides the main bundle, you can also add any of the available channel packs or premium networks to get more content. When it comes to the ways you can watch fuboTV, we will mention that there are apps for a ton of devices such as iOS and Android phones and tablets, Apple TV, Android TV, Fire TV, Chromecast, Roku, and more. You can also watch on your browser if you'd rather do it that way. (Note: fuboTV is a service that only works in the United States, so if you're going to travel abroad, you're going to need a VPN to access your account. Click here to learn exactly what you should do to make this possible.)
Here's how you can set up fuboTV so you can start your 7-day free trial:
First, you are going to have to visit the fuboTV website and to create an account once you tap on the "Start free trial" button. This will redirect you to a page where you have to enter your email address and password to set up an account. It's also possible to use the social login buttons from Facebook or Twitter, which will get you into the account faster.
Then, you will have to start setting up your subscription by choosing the plan that you want to go for. fubo Standard is the main option with over one hundred channels, but there are also the plans called Family or Ultra, which include everything that's in fubo Standard, as well as extra channel packs or premium networks at discount prices.
Once you've made your choice, you can customize the subscription further by choosing any of the available channel packs or premium networks. There are also add-ons available that will help you expand the capacity of the Cloud DVR storage space or the number of devices you can watch content simultaneously on.
Finally, they will need to have your card details so they can set up the payment process. You will not be charged until the 7-day free trial is complete.
Other Ways to Watch The Magicians
Sling TV – Another platform that hosts Syfy is Sling TV, which is highly customizable. There are three bundles available, but Syfy is only present in two of them, namely Blue, and Orange + Blue. The bundles differ in price and channel combination, but they also come with different privileges. For example, Orange subscribers can only watch content on one device at a time. The bundles that include Syfy have more simultaneous streams available, with Blue subscribers being able to watch on up to three different devices simultaneously and Orange + Blue subscribers getting to enjoy watching content on up to four devices at the same time. Start your Sling TV subscription by saving money in the first month! There are a ton of channel packs that you can add to your subscription, as well as loads of premium networks if you want more content.
Hulu – Another service that features Syfy is Hulu, whose live TV service includes dozens of networks we are sure you'll love. If you want more content besides what the main bundle has to offer, you can add a couple of channel packs or premium networks to your subscription. Start your 7-day free trial on Hulu now! The cool thing about Hulu is that when you subscribe to the live TV service, you'll also get access to the on-demand content, which is quite extensive.
How Can I Watch The Magicians When Traveling Outside of the United States?
Watching content when you travel outside of the United States is somewhat trickier because live TV platforms and streaming services alike are geo-blocked. This happens because the content is licensed to certain countries, and the creators can resell that specific content to other nations for extra money. Basically, when you travel outside of the United States, you lose access to the services you pay for back home, which can be quite frustrating. Thankfully, the problem can be solved relatively easily with the help of a VPN that can change your IP address, so you appear to be back in the United States rather than what corner of the world you're actually in.
In terms of services, we can recommend ExpressVPN, which comes with thousands of servers across the world and tight security and privacy features to help you out.
Here's how you can use ExpressVPN to watch The Magicians anywhere you go:
First, you're going to have to subscribe to ExpressVPN (49% OFF), which you can do after you've visited their site. Setting up an account only takes a couple of minutes of your time, and then you'll be able to easily enjoy any content anywhere you go. Keep in mind that ExpressVPN has a 30-day money-back guarantee policy, so if there's anything wrong with the app, you can always ask for a refund.
Then, you need to download the app for your device and to install it. Launch the app and log in to your account as soon as possible, so you always have access to the tool when you need it.
Look for a server that is located in the United States and connect to it.
When the app informs you that the connection has been established, you can go ahead and launch fuboTV so you can start watching The Magicians anywhere you go.
Can I Watch The Magicians on the Syfy Website?
Yes, you can enjoy a live stream of the Syfy network on their website. In order to do this, you will need to log in to an account by using credentials from your TV provider, which can be one of the aforementioned live TV services or a cable company if you are yet to cut the cord. (Note: You need to keep in mind that the Syfy live stream is geo-blocked so, if you're going to travel outside of the United States for any reason, you will need a VPN to access the content. Click here to find out what you need to do.)
Can I Binge-watch The Magicians?
You can absolutely do this, as you will find episodes from The Magicians available on the Syfy website. You can also find the episodes available to stream on Netflix, so you can choose to go that route as well.
Can I Purchase Episodes From The Magicians?
Absolutely! Episodes or seasons from The Magicians are available to buy from platforms like Google Play, YouTube, iTunes, Microsoft Store, Amazon Prime, and Vudu. Keep in mind that the available links could have a discount offer when you decide to make a purchase, so you should check all the links above just to be sure, and maybe to get a better deal.