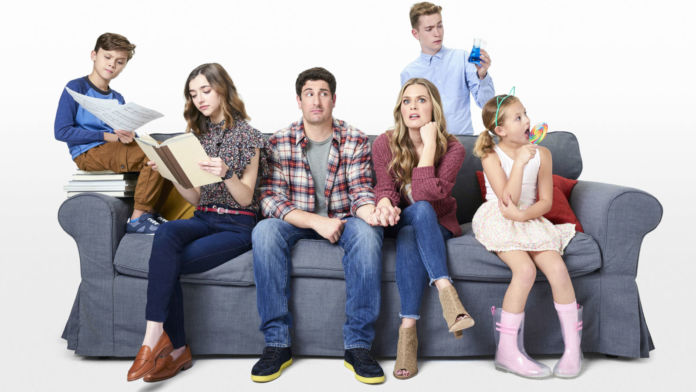 Outmatched
Fox is lining up a brand new show that will have you in stitches in the first few minutes. Named Outmatched, the new show is premiering on Fox this January. We're planning on watching Outmatched live online, so let's go ahead and find the best way for you to do this too.
Outmatched follows a cute couple in Atlantic City, New Jersey, who's struggling to raise four kids, three of whom are geniuses. Obviously, that won't be easy for folks of average intelligence, especially as the kids grow older. Nonetheless, it's the perfect situation to enjoy some extremely funny situations.
Funnyman Jason Biggs plays Mike, while Maggie Lawson plays Cay, his wife. The cast also features Tisha Campbell-Martin and Finesse Mitchell, and we already know one of the show's guest stars – Tony Danza.
When and Where to Watch Outmatched?
Outmatched is scheduled to premiere on January 23rd, so you'll get to see new episodes every Thursday evening on Fox. It is unclear exactly how many episodes the show's first season will have at this point, but we're hoping to enjoy it for a long time.
How Can I Live Stream Outmatched?
We don't know about you, but we particularly love watching a lot of content online, whether we're talking about Netflix, YouTube tutorials, news reports, or anything else. So, of course, it makes total sense to also watch TV online because it enables us to take content with us wherever we go, whether we're chilling in a coffee shop, on the way to work, or in the office breakroom. When it comes to watching Outmatched online, we think that fuboTV is one of your best options because it's such a cool platform. There's a single bundle of channels that includes Fox, but there are also a ton of customization options available for those seeking more networks. Start your 7-day free trial on fuboTV now!
Besides the channel packs you can add here, there are also a bunch of premium networks you should check out. fuboTV works on a wide range of devices, including iOS and Android phones and tablets, Apple TV, Android TV, Fire TV, Chromecast, Roku, and more. (Note: Fox is a channel that is available in select markets only, so even when using a live TV platform, the restrictions apply to you. Thankfully, since this happens online, you can simply use a VPN to change your IP address so you appear to be in a different city where the channel is available. Click here to find out what you need to do.)
Here's how you can set up your 7-day free trial on fuboTV:
First, you'll need to go ahead and visit the fuboTV's website and to find the "Start Free Trial" button on the page.
Tapping on the button will redirect you to a page where you can fill in your email address and a password. There's also the option of using the social login buttons from Facebook or Twitter.
Next, you'll need to start building up your subscription. You'll have to choose the package you want to go to. fubo Standard is the main option and it features dozens of TV networks, including Fox. Family and Ultra are plans that include fubo Standard and extra channel packs, premium networks, or add-ons at lower prices.
Then, you get to customize the subscription by adding any channel packs, premiums, or add-ons yourself. You can thus expand the capacity of the cloud DVR storage space or the number of simultaneous streams you can enjoy.
Once you're done, they need your card details so they can set up that aspect of your account too.
Other Ways to Watch Outmatched
Sling TV – Another cool platform you should definitely try out is Sling TV, which features three bundles. Fox is only present in two of these bundles, namely Blue and Orange + Blue. There are multiple differences between the two bundles – the price, the channel combo – including the fact that Blue subscribers can watch content on three devices simultaneously, while Orange + Blue subscribers can watch on up to four devices at the same time. Start your Sling TV subscription by saving money on your first month! There are a lot of channel packs you can add to your subscription, depending on your interests, as well as loads of premium networks.
Hulu – You'll also find Fox in Hulu's main bundle, which is super awesome. There is a single bundle here, but there are a few channel packs to add or premium networks, if you're looking for more content. Start your 7-day free trial on Hulu now! It's also worth to note that when you subscribe to Hulu's live TV service, you also get access to the video-on-demand library.
How Can You Watch Outmatched When Traveling Outside the US?
One of the things everyone has trouble with when traveling is accessing their subscriptions back home. Whether we're talking about live TV platforms or streaming services, the issues are the same because they are all geoblocked. Basically, they will detect your location via your IP address and block you from accessing the content. This can be quite annoying, but it happens due to the licensing deals that prevent them from streaming content beyond the country's borders. Thankfully, you can bypass the problem easily by using a VPN to change your IP address in just a few moments.
We can recommend ExpressVPN, which is one of the best tools on the market today, with thousands of servers in all corners of the world, including dozens over in the US.
Here's how you can use ExpressVPN to watch Outmatched without cable anywhere you go:
First, you'll have to subscribe to ExpressVPN (49% OFF), which you can do easily once you visit their website. The whole process will take a couple of minutes of your time. It's also worth to note that ExpressVPN has a 30-day money-back guarantee policy in place, so you can request a refund within this timeframe if there are any issues with the tool.
Then, you'll need to download and install the app. Launch the app and log into your account so it's ready anytime you need to use it.
Find a server that's located in the United States and connect to it.
As soon as the connection has been established, you can load fuboTV so you can start watching Outmatched when it airs.
Can I Watch Outmatched on the Network Website?
Yes, that's also an option for you because the Fox website features a live stream you can access. In order to do this, however, you'll need to log in to an account by using credentials from your TV provider, which can be one of the live TV platforms we mentioned or a cable company, if you have yet to cut the cord. There are also apps available for those who want to take Fox with them everywhere they go. (Note: Both the Fox live stream and the app are geoblocked, so if you travel outside of the United States, you'll need a VPN to work around things. Click here to find out more about how you can do this.)
Can I Watch Outmatched with a TV Antenna?
This is also a valid option because Fox is a channel that continues to broadcast over the air, so you can enjoy it with the help of a TV antenna. These devices are super popular with cord-cutters because they're cheap and enable folks to watch dozens of TV networks for free, so what's not to like?
We do think that you should visit a site such as NoCable before making any decisions, because this one will tell you whether or not Fox even broadcasts in your area. It will also tell you how far the broadcast stations are from your location so you can figure out what range you need your device to have so you watch as many networks as possible. Make sure to take a look at the devices we listed above in case any of them have the right features for your household.
Can I Binge-Watch Outmatched?
Absolutely! This will be super easy to do once the episodes start airing. First, they'll get uploaded to the Fox website and you'll get to watch them once you sign up for an account. Then, they'll also be available to watch on Hulu the day after they aired on TV. As soon as several episodes add up, you can dive in and watch them all.
Can I Purchase Outmatched Episodes?
Sure thing! You can do this once the show starts airing as the new episodes will become available to buy from platforms like Google Play, YouTube, iTunes, Microsoft Store, Amazon Prime, or Vudu. You can either buy individual episodes or shell out for the full season for a lower price, and you'll be able to download new episodes as they show up. You can also check all the available links in case any of them have a better price for you, and you end up saving some money.